Kids clothes and toys in Frederiksberg




Children
Children's clothing stores in Frederiksberg Centret
On the hunt for stunning children's and baby clothes in Frederiksberg? In Frederiksberg Centret, you will find a wide selection of children's clothing stores with both cool and cute boys' and girls' clothes. The Lil'Atelier, Name it, H&M, Eventyrsport, SPORTMASTER, and Intersport stores sell children's clothing for every taste. You will also find a wide variety of children's shoes at The Athlete's Foot, Skoringen, and ECCO. Stop by our children's clothing stores, where you can find clothes for babies, children, and young adults from the ages of 0–18 years. Explore our other children's shops that are all about toys, hobbies, or school supplies, and much more.
Baby clothes and clothes for toddlers
If you are looking for children's clothing or baby shops, you have come to the right place. We have lots of cute clothes for your baby so they can look their best.

If you want your child to wear organic clothing, you can also find that in Frederiksberg Centret. With organic children's clothing, your child is not exposed to the harmful chemicals to which children particularly vulnerable.

In FRB.C Shopping, you will find clothes for babies in our children's clothing stores – everything from bodystockings and bibs to socks and tights.
Shops with clothes for teenagers
Frederiksberg Centret's children's clothing stores also offer a wide selection of fashion clothes for tweens and teenagers. We have a brilliant selection of clothes for teenagers, so whether you are looking for hoodies and caps or dresses and skirts, you can find it in our stores.
Our children's clothing stores offer lots of cool clothes for children and young adults who are into fashion and want to make their own fashion statement. Visit the shops with clothes for teens and tweens today.
Children's fashion in the colours of the rainbow
Children's fashion is always evolving, just like adults. We're seeing a tendency to wear more colours again, and they have to be bold and bright.

Rock'n'roll, surfer style, and streetwear with patterns and prints are also often seen on the streets. And, strongly inspired by the 80s, the sporty look is once again in fashion.

Sustainability has also become more important to children as well as their parents, which is why manufacturers are prioritising sustainably produced clothing in organic materials. This means you can shop with a clear conscience.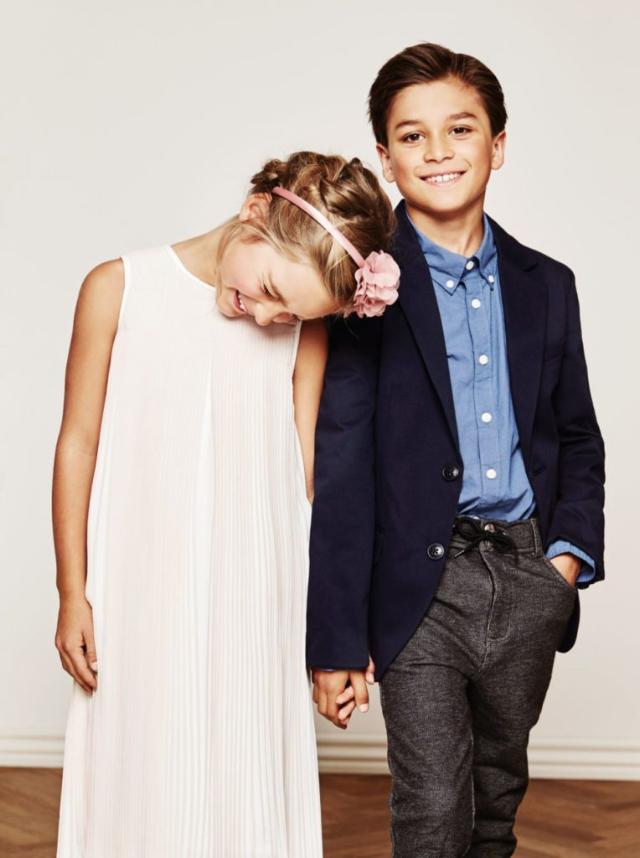 Outerwear, thermals, and rainwear for children
In Frederiksberg Centret's children's clothing stores, you will find a wide selection of clothes for the child who spends all day outside playing. Here, you will find everything you need to keep them warm from the outside in.

To make sure your child stays warm and dry in all kinds of weather, outdoor clothing, like thermals, fleece jackets, snowsuits, and rainwear, is essential. In our stores, you can find a large assortment of winter and transition jackets that keep the wind and cold at bay.

We offer boys' and girls' clothes for all types of children, the energetic, the wild, and the quiet ones, so they can play unrestricted by tight, uncomfortable clothes. Visit Frederiksberg Centret's children's clothing stores today and see the large selection.
Children's clothing for all seasons
Children of all sizes and ages have to be properly dressed for fun, school, and holidays, all year round. And, when they're out playing and learning, their clothes should not restrict them. In Frederiksberg Centret, you can find children's clothing for all four seasons, so you are always prepared, even when the weather is unpredictable. No matter whether you're on the hunt for warm winter clothes for children, a light spring outfit, autumn clothes, or this summer's swimwear, you can find it all in Frederiksberg Centret's children's clothing stores.
Children's clothing stores – opening hours
The children's clothing stores in Frederiksberg Centret are open Monday to Friday from 10:00 to 19:00 and Saturday and Sunday from 10:00 to 17:00. Visit Frederiksberg Centret if you need clothes for children and babies. Our children's clothing stores have a large selection of girls' and boys' clothing for all ages.
Maybe you would also be interested in